Three of Our Favourite Science-Based Self-Help Books
Live a More Meaningful Life – Right Here, Right Now
The right book at the right time can completely change your life. A science based self-help book can be a fantastic aide to therapy with a skilled professional psychologist, and can help grow the skills learned in sessions of ACT therapy. Research shows specific ACT self-help actually helps, and even more so with the aid of a skilled coach.
Our psychologists, being passionate about helping others, have examined dozens of psychology and self-help books so as to give the best possible care to their clients. We present three of the best which explore popular myths, and examine these myths can constrain and limit us. Here's three of our favourite ACT oriented self-help books.
1. The Happiness Trap by Russ Harriss
The simplest, bestselling and most practical ACT self-help book from Australia's foremost ACT trainer Dr Russ Harris. A famous book in the ACT community, the Happiness Trap debunks popular myths around happiness and coaches you in useful skills based on sound scientific evidence. If you read only one book on this list, it should be this one!
Russ has created an 8 week online program based on the Happiness Trap.
From the book's website "The Happiness Trap is a unique and empowering self-help book – now published in 30 countries and 22 languages – that will enrich your life and fundamentally transform the way you handle difficult thoughts and painful feelings. The title reflects a key theme in the book: popular ideas about happiness are misleading or inaccurate, and will make you miserable in the long term, if you believe them."
As the founder of ACT Steve Hayes says: "The Happiness Trap carefully and creatively presents techniques that anyone can use to undermine struggle, avoidance, and loss of the moment. Russ systematically explores how we get into the 'Happiness Trap' and then shines a powerful beacon showing us another way forward."
2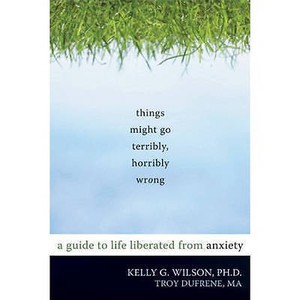 Things Might go Terribly, Horribly Wrong, by Kelly G. Wilson & Troy DuFrene
A superb, touching book exploring anxiety. Using ACT theory and practical exercises, Things Might go Terribly, Horribly Wrong approaches anxiety very differently to traditional self-help. Instead of pushing away our difficult thoughts and feelings, Things Might go Terribly, Horribly Wrong suggests we learn to gently, kindly touch (and learn from) our difficult thoughts and feelings, to make space for them and maybe even in doing so find ourselves within them!
Awarded the "Association for Behavioural and Cognitive Therapies Self-Help Seal of Merit", this book is one of our favourites to share with our friends, clients & colleagues.
3. Daring Greatly, by Brene Brown
A charming, inspiring book by research professor, Brene Brown, Daring Greatly is an exceptionally well-reviewed book on the importance and power of vulnerability. There's a common myth that showing vulnerability is a weakness, while in contrast should project a perfect exterior at all times. Taking normal risks in life naturally make us feel vulnerable, and we equally naturally push back those feelings. In this book Brene challenges this tendency and shows us that being able to embrace and show our vulnerability can prove to be a great strength. 
Brene Brown's 2010 TEDx talk "The Power of Vulnerability" is a charming and funny introduction to her work.
Please check out these 3 wonderful books, the links above and let us know what you think! In comments, on FB, or with your Brisbane ACT Centre skills coach.
Want to Learn More?
Book an Appointment with One of Our Expert Brisbane Psychologists or Therapists.